This week I gave an interview to KTU's representative. Interesting experience I would say. They were interested in my success as a woman in technology, because the university is working on attracting more girls to study informatics. Hope it will be published somewhere :) if so - i'll definitely sharing this.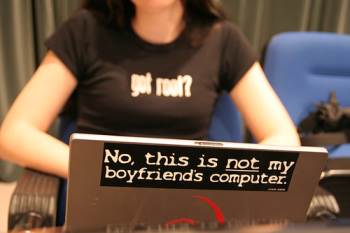 And same day accidentally I found that Google was providing grant for women in technology to attend tech conferences (girls, who are interested go here there are couple days left to apply).
Here is my essay, who knows, may be it will inspire someone..
My story and how am I going to make an impact
As a Program Development Manager in Adform I run a department of 28 software engineers. Out of 28 - there is only one woman software engineer in my department. And this makes me a bit sad. IT world would be much more diverse if there were more women in it.
For a long time I was the only girl in a group of developers. I have changed companies, products, roles - but one thing remains - I was the only girl among lots of men. For most women it is a real challenge to join a work environment which is not "women friendly". Working in IT for more than 10 years I got used to it. But it could be different.
It's all about balance everywhere, in IT as well. We as men and women have different natural skills, combining those together give awesome results.
I believe that most of the women just need a little encouragement in the very beginning of their carrier to make right decision. That's why I speak to students, write blog and try to show everyone how it is really possible to successfully work in IT and achieve self-realization in this field being a woman.
In the next 12 months I will keep writing my blog highlighting woman's position in technology more. Also while giving lectures at university I'll encourage female students by telling my success story. I will keep supporting KTU's initiative to inspire and attract more women to universities. And I will hire at least one more female software engineer into my team in a year.
Lena Barinova
Program development manager, Adform Lithuania
---
---